Our practice has state-of-the-art dialysis equipment. The dialysis stations are equipped with the latest generation of machines which guarantee maximum safety and comfort for our patients. Treatment settings are tailored and programmed for your individual needs.
The spacious, inviting rooms of the Seehallen building in Horgen afford both comfort and a beautiful view of Lake Zurich. An ultra-modern multimedia system and free WiFi ensure convenience and entertainment. Patients from the region, as well as vacationers of all insurance classes are welcome at the Nephro am See dialysis centre. A separate area with its own entrance is available where private care can be offered for those with special needs. Patients are offered refreshments including organic teas and coffee, as well as fresh sandwiches from local bakeries.
We also offer holiday dialysis for holiday guests or visitors from and to the region. Download our registration form for holiday dialysis here and send it to us 5 weeks before your holiday.
Support following a new diagnosis
Have you recently been diagnosed with kidney failure? In addition to all medical testing and consultations, our team will help you to prepare mentally and physically for the upcoming dialysis treatment. We will accompany you during this difficult phase of your life and are always available to provide you with advice and support.
Treatments available:
Hemodiafiltration HDF, Hemodialysis HD, HF, Peritoneal Dialysis
Special apheresis procedures (lipid apheresis, protein apheresis)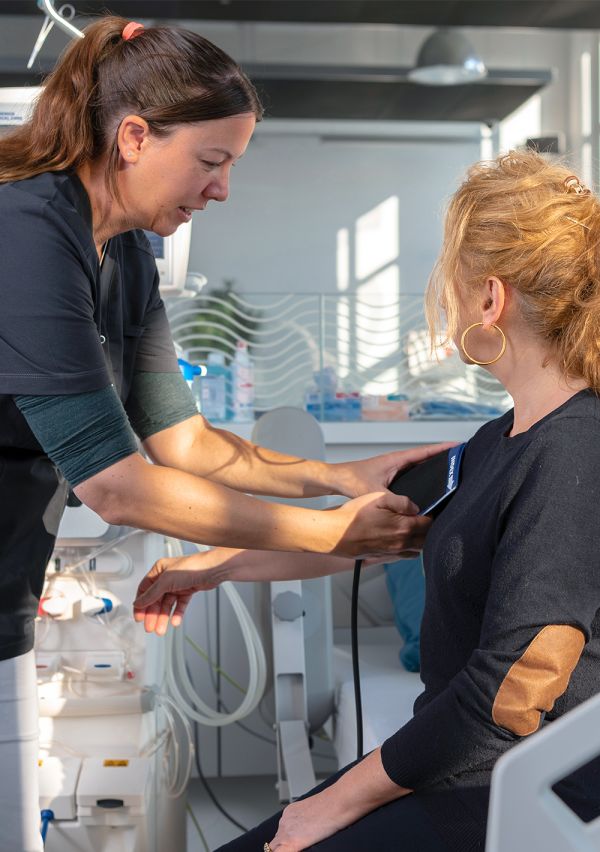 What is dialysis?
Dialysis is a blood purification procedure and is also referred to as an «artificial kidney». It becomes necessary when the kidney fails to function properly. Dialysis is a very safe but time-consuming procedure. The ultimate aim is usually a kidney transplant that will allow patients to return to a normal daily routine. In many cases, dialysis serves as an interim measure.